Tripawds is a user-supported community. Thank you for your support!
I have sat here for at least an hour staring at this blinking cursor and wondering where to begin. So I will make it easy….
My Hank, my angel, my "heart dog,"….is gone.
And there is a huge, gaping hole inside my chest where my heart used to be, but he took it with him. And I am left with this persistent feeling of cold air sucking into this wound and filling my heart space to the point I feel physical pain….and a feeling of breathlessness takes over until I remind myself to breathe again. I couldn't get out of bed for the entire day after he was gone (which I have only ever done ONCE before and it was because I was so sick with the flu that I literally couldn't move).  I didn't want to get up and walk downstairs because that meant I would see his empty bed where we said goodbye. It meant I would see his harness and leash near the front door yet he would not be there for me to put it on. It meant that I would be reminded that our house no longer contained the best part of it…the part that made it our home…… our Hank. For that entire day I didn't ever get out of my pajamas, I didn't shower, brush my teeth or my hair. I just had no desire to do any of it.  And I cried, actually sobbed, all day. Hank had been my shadow, my companion, my protector, my soul, each and every day for 9 years. And in the past year since his diagnosis, my entire day revolved around care taking for him. And I LOVED this job- giving him his pain meds five times per day, giving him a daily rub/massage, getting him out for his walk, preparing his meds and meals for when I was at work, or taking him to work with me.  And now he was gone. My heart was gone. And despite the many, many emotionally and physically painful things I have endured in my life, this pain is a type of pain I don't think I have ever experienced.
He was doing great until the week leading up to Christmas. I had just worked 5, 12-hour night shifts in a row and when I came home on Wednesday morning, Hank was crying when we got into bed. It didn't last long, so I didn't think much of it. But when I went to bed with Adam on Wednesday night, he did it again and Adam confided in me that Hank had been crying a lot during the night. It also seemed as if his tumor had grown exponentially during that week. I could never really "feel" it when I ran my hand down his right hind leg, but by now it was easily a large and visible swelling. Thursday night and Friday night, Hank woke me up twice in the middle of the night crying, restless and painful. I would get up, give him an extra dose of pain meds and lay with him in his bed, running my hands over his body until he fell asleep. I can still feel his fur under my fingertips if I close my eyes. We also noticed that he was pretty much functioning on two legs multiple times during the day, yet he still somehow made it on his walks. He needed help getting up out of bed and was actually accepting the help, which for him, was not a good sign.
On Christmas Eve, we took him to my mothers for a family dinner and I remember looking at him at one point and seeing something different about his eyes, but I just couldn't put my finger on what it was. And I started having a sinking feeling that we were getting close to the end (but denial was hitting me hard so I tried not to think about it). He just didn't seem himself. Except of course, when I gave him close to half of my lobster dinner 🙂 That night, he woke me up three times and I never was able to get him to settle enough to go to sleep. The last time he woke me up was around 5 a.m on Christmas morning. I laid down with him and cried. I reminded him that he needed to tell me when he was done and I promised him I would listen. Up to this point, when I would cry and say this, he would snuggle his face into my neck, wiggle and thump his tail on his bed as if to say "Mom, I'm OK." But on this morning, he just looked at me. No wiggling, no wagging, no snuggling. And there it was….I just knew.
We spent Christmas morning opening gifts and hanging out in our PJ's like most people do. It was a nice distraction from what was weighing on my mind. Adam and I had breakfast and talked about Hank- I told him my thoughts and we both cried even more. Mid-day, we decided to take the boys for a romp around the lake. Despite his pain, Hank hopped along like he usually does, sniffing and galloping around with Scout. I watched them and tried not to think about the fact that this would be their last walk together. I sobbed most of the time, but tried to find joy in seeing Hank in his favorite place. Outdoors and free.
Christmas night, he never slept. He cried the entire night and I was up with him every hour. He started to refuse his meds and by 2 a.m., we were both exhausted, so I put a Fentanyl patch on him out of desperation to take his pain away. It did nothing. Adam got up and went to work and I told him that this was it. We could not let him be in pain any longer. And then we had our last day. It all happened so fast.
Its hard to know how to spend a final 12 hours with something you love so much, especially when there is a deep, dark abyss on the other side of the impending loss that is very uncertain. I figured I had prepared myself so much for this time, yet really had no clue about the effect this was going to have on my family and I. I tried to enjoy the day as much as I could. He actually ate breakfast. We cuddled by the fire. And then I took him for his final walk….just me and him. He ran around to his usual critter holes, but there was an obvious decrease in his energy that day. I watched him hop along in front of me as I had every day for 9 years and tried to burn the image into my head. I even took a video so I never had to lose that memory. He ate snow…one of his favorite things. Then we went to the park and laid in the grass. He barked at some kids. And then, he rested his head on my leg and we sat for a while; I cried quietly to myself ….he finally seemed to rest. I ran my hands all over his body, his face, his velvety ears. I felt his scar. I rested my hand on his chest so I could feel his heartbeat. I kissed his muzzle and his head. I whispered in his ear. Then we walked home slowly.
Later in the evening, my mother, sister, brother-in-law and nephew came over to say their goodbyes. We toasted to Hank with Champagne, ate guacamole and all sat on the floor around him. My mom cooked him a hamburger, he helped us finish the tortilla chips and I let him have a Jello shot that was leftover from Christmas. I drank wine….. a lot of wine. They left and Adam's mother came over. She laid with him on the floor and he loved every minute of it. Then Adam's daughters got their chance to say goodbye. Kendra, the oldest, whom I have seen cry once before since I have known her (3 years), collapsed on Hank's bed and sobbed as she held him. I could barely keep myself together as she did this and I came to realize just how many people loved him. He was just as important of a family member as any one of us humans.
Everyone left except Adam and I. Then it was time. And this was going to hurt.
My overnight ER nurse and one of my bestest friends, Eddy, came to the house. He was gentle and calm. He placed an IV catheter in Hank's vein while he laid on his bed with Adam by the fireplace. I scooted over to Hank and put his head in my lap as Eddy gave him an IV dose of Fentanyl and a sedative to help him relax. For the first time all weekend, I felt him truly let go…he wasn't in any pain. I held his head in my hands and pressed my forehead to his as hard as I could as if to be able to tell him how much I loved him by osmosis. I thanked him for taking such good care of me. I thanked him for bringing me to this place in my life where I was finally happy and safe. I thanked him for the unconditional love that only a dog is capable of giving and told him how much I was going to miss him. I whispered in his ear one final time how much I loved him as Eddy gave the final injections. I clutched his head as I felt him slip away and in that instant, I could not cry enough to get rid of the instant pain and emptiness I felt. And then he was gone.
Eddy carried his body to his car and I watched him drive away. Walking into the house was suffocating without Hank's presence. Adam and I held each other all night and cried and all I have to say, is thank God for him. Thank God for this amazing man who loved my dog as much as I did. And when you are a veterinarian, you typically have a complex that no one will ever take as good of care of your pets as you would or love them as much as you would. Adam proved me wrong and if he hadn't been there, I probably would have stepped into traffic that night.
It has been a little over a week and the grief is still indescribable. I still cry every morning when I get home and before I go to bed. I cry at night when I can't lean down to his bed and kiss him. I cry when I drive to work and don't see his face in my rear-view mirror. I cry when I look at Scout and see a dog that is completely different without his buddy. I cry at work when I walk by his empty kennel.
I have brief moments when I try to remind myself that we fought the good fight. That it was the right choice to let him go when we did and that he is finally free of pain. And I was lucky to have him as long as I did after his diagnosis; we did get him through to his birthday and Christmas after all. But those moments are quickly dashed by all the emotions that go along with grief. Anger that as a vet, I couldn't save him. Emptiness, loss of purpose, depression, complete lack of motivation to do absolutely anything. More anger. I know time heals a lot of pain, but at the moment, it is fucking terrible and all I want is to have my dog back. The dog that reminded me daily why I became a veterinarian- because people suck. And what better way to spend my life than to make it my purpose to advocate for and to take care of those that take such amazing care of us. To love an animal is to live, and without him (or Roscoe, or my horse Little Bit, or my cat Lulu), I don't think I would have ever made it. I am hoping that with more time it will get better and I hope the next time I write it will be from a place of acceptance and peace. I know I will get there. But today is not that day.
So goodbye my darling boy. I will meet you at the Rainbow Bridge. And I can't wait to whisper in your ear how much I love you.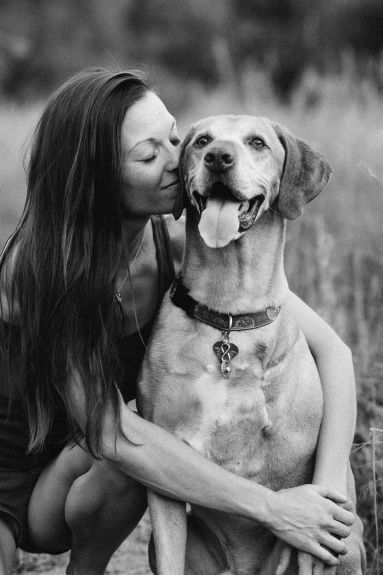 LP