Tripawds is a user-supported community. Thank you for your support!
Today was a great day. Today was a day that I didn't think we would get to celebrate…….Today we celebrated Hank's 9th birthday.
Despite the freezing Colorado temps and several inches of fresh snow, we braved the park in our neighborhood with Hank wearing his ugly Christmas sweater and a "Birthday Boy" pin. He ran in the snow, played with a stick (which he has never done before… I think he was mostly trying to keep it away from Scout) and ran up and down the sidewalk like his usual goofy self. Our paws/feet/fingers/faces were frozen after about 20 minutes, so we headed back home. Then there was steak, lots of good cuddles and of course, party hats (much to Hank's very obvious chagrin).
I will complete this short post with a picture diary of this day because I am struggling to find the words to describe how I am feeling……there is joy being felt over his reaching this milestone, yet deep sadness that it will be his last….there is frustration that I am even sad given that he is still with me, and an overall crippling uncertainty I experience when I wonder if his recent and obvious uptick in pain (despite being on a very regular and intensive pain management protocol)  is something I should be ok with…..or not.  So for now, I will sit here at work with him next to me and relish in the greatness of this day for as long as I can….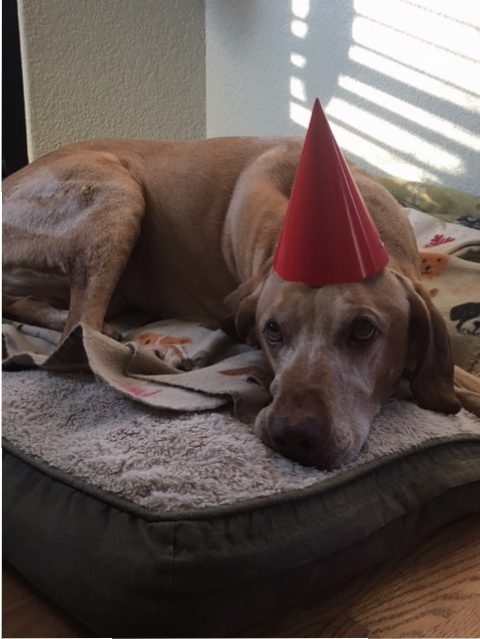 Until next time,
LP